Medium: Television
Title: Days Upon Our Knees
Fandom: Battlestar Galactica 2003
Subject: Season 3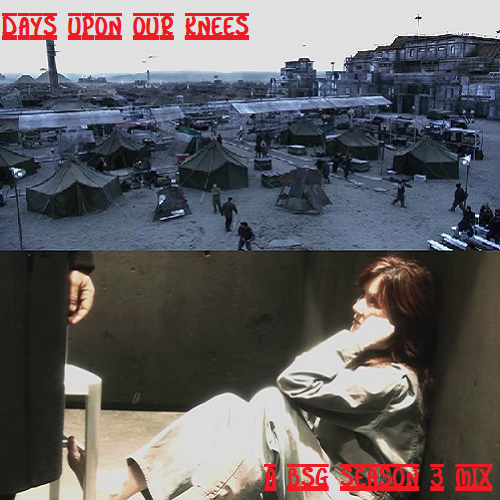 Download here!
Lyrics and notes
1/overall: days upon our knees (international victim)
cruel world won't cry.
we chose to close our eyes
through loss of worth and self and will to survive in these
days upon our knees
2/occupation: trommeln in der stadt (der glockner von notre dame)
Söldner, die von Pferden
Auf ehrliche Bürger niedersehn.
Drohende Gebärden!
Wo fürht uns das noch alles hin!
3/precipice: march of cambreadth (heather alexander)
close your mind to stress and pain.
fight 'til you're no longer sane.
let not one damn cur pass by.
how many of them can we make die?
4/exodus 1: what have you done now (within temptation)
i know i should stop believing.
i know that there's no retrieving.
it's over now.
what have you done?
5/exodus 2: into the fire (the scarlet pimpernel)
into terror, into valor,
charge ahead--no, never turn.
yes, it's into the fire we fly
and the devil will burn!
6/collaborators: sweet sacrifice (evanescence)
you poor sweet innocent thing.
dry your eyes and testify.
and oh you love to hate me, don't you, honey?
i'm your sacrifice.
7/torn: the show must go on (moulin rouge!)
another hero, another mindless crime
behind the curtain, in the pantomime.
on and on--does anybody know what we are living for?
8/a measure of salvation: his hymn (drew sarich)
entertaining the room has become the only trick i know,
and no one seems to be hearing me.
but i get so scared at night when i'm alone up in my room
that i'll awake and you won't mean a thing.
come guide the heart of the wicked
9/hero: i can't decide (scissor sisters)
i've got to hand it to you.
you've played by all the same rules.
it takes the truth to fool me,
and now you've made me angry.
10/unfinished business: as long as you're mine (wicked)
every moment, as long as you're mine,
i'll wake up my body and make up for lost time.
say there's no future for us as a pair,
and, though i may know, i don't care.
11/the passage: the prayer (quest for camelot)
let this be our prayer,
when we lose our way.
lead us to a place,
guide us with your grace
to a place where we'll be safe.
12/the eye of jupiter: confutatis maledictis (wolfgang amadeus mozart)
confutatis maledictis
flammis acribus adictis
voca me cum benedictus
13/rapture: o magnum mysterium (tomas luis de victoria)
o magnum mysterium,
et admirabile sacramentum,
14/taking a break from all your worries: break me, shake me (savage garden)
she says 'i can help you.'
but what do you say?
'cause it ain't free, baby.
you have to pay.
you just keep me contemplating
that your soul is slowly fading.
15/the woman king: i, don quixote (man of la mancha: linda eder cover)
hear me now,
oh thou bleak and unbearable world:
thou art base and debauched as can be
and a knight
with his banner all bravely unfurled
now hurls down his gauntlet to thee.
16/a day in the life: i'll be seeing you (frank sinatra)
i'll be seeing you
in all the old familiar places
that this heart of mine embraces,
all day through.
17/dirty hands: do you hear the people sing? (les miserables)
will you join in our crusade?
who will be strong and stand with me?
beyond the barricade,
is there a world you long to see?
then join in the fight
that will give you the right
to be free.
18/maelstrom: storm front (billy joel)
the morning was grey, but i had the motivation.
i drifted away and ran into more
heavy weather offshore.
19/the son also rises: razzle dazzle (chicago)
give 'em the old three ring circus.
stun and stagger 'em.
when you're in trouble, go into your dance.
though you are stiffer than a girder,
they'll let ya get away with murder.
20/crossroads 1: comfort and joy (bat boy)
i could make a solid case
for smashing in your filthy face.
(kill him) shut up
(kill him) shut up!
i got a spade and a burlap sack
and there's a hole in the yard out back.
but if i fill it, she'll ask me why.
so i've got one thing to do before you die.
21/crossroads 2: all along the watchtower (bear mccreary)
there must be some way out of here
said the joker to the thief
there's too much confusion
i can't get no relief